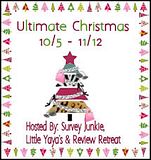 Coming Soon.....
Saucony Prize Pack
One winner will receive this amazing gift pack!
1 winner, 7 Saucony products,
at The Ultimate Christmas Gift Guide Giveaway Event ..
$400  + Value
You can have something nice for yourself and get a few Christmas Gifts out of the way..
Visit Saucony :
Stay Connected to Saucony :
Make sure you mark your calendars for the Ultimate Christmas Gift Guide
Oct 5th - Nov 12th
See you there!!