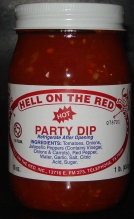 My favorite salsa has always been Pace's Hot Salsa. It's not too spicy but it has a great flavor. I was in the salsa isle at the grocery store one day and was in the mood for something different. I was really looking for something with a nice "kick". Another shopper approached me and asked if I had tried
Hell On The Red
. I had never even heard of it but this man went on and on about how great it was, so I had to try it for myself.
Hell on The Red
Salsa was created by a Texas hunter too bored with the plain salsa varieties. It's made in Telephone Texas near the Red River. The Hot Party Dip certainly packs a punch. It's bursting with flavor and spice. If you love salsa but prefer something with less of a bite, they also have mild party dip. In addition to Salsa/Party Dip, they also sell barbecue sauce, hot mustard and cheese dip.
Luckily for me, I live in Texas and can find Hell On The Red at my local grocery store. If you don't live in the great state of Texas,
Hell On The Red
has an easy online
ordering form
. I'm by no means a salsa expert, but living in Texas has definitely provided me with the opportunity to taste some of the best made salsas around.
Hell On Te Red
is at the top of my list. If you try it once, you will want it again. This stuff is just too good to resist!
Disclaimer: I purchased this product for my own personal use and review purposes. No compensation was received. The thoughts and opinions expressed are my own.