Today, I discovered
Time Out For Theta Mom
. I think her posts are a great idea and are a great reminder that all of us moms need our time to ourselves. If you haven't heard of Time Out For Theta Mom Thursday, this is where women all over share something that they did for themselves. We chose one hour out of the month away from our kids, husbands, boyfriends, responsibilities, duties, deadlines and finally do something for ourselves & share with the other
Theta Mom Thursday
Women.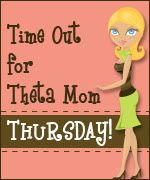 My son is 20 months old and sadly, I don't think I've gotten 1 full day to myself since he was born. As much as I love my family, I really need some time
ALONE
! This weekend I was feeling ill. I woke up with a sore throat and runny nose. My husband had to estimate a job and surprisingly, took our son with him. As much as I wanted to stay in bed, I knew I couldn't waste an opportunity to get out of the house and have "me" time.

My Theta mom time out?
I grabbed a pack of tissues to go, and ran out the door not knowing where I was going. I ended up at Kohls, spent money I had saved for "backup" and left with 5 shirts spending under $25.00. It felt so amazing to have some me time. For the longest, I had forgotten what that even meant. My day ended with my husband bringing me chips/salsa and a chicken salad from Chili's for dinner. My husband got our son ready for bed and I kissed him goodnight.
What did you do for yourself for one hour this month??