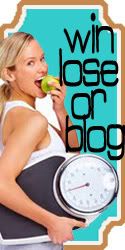 Win, Lose or Blog is a fun new competition designed by six lovely ladies who are on a mission to make blogland a healthier place. 
Each "season" of their competition will last eight weeks and each season they will choose eight new contestants.  Contestants will blog about their experiences and track their progress for all to see.  They will serve as an inspiration to all of us and hopefully they won't be the only ones who accept our challenge to start some healthy habits. 
Every Monday morning they will post the stats so followers can congratulate contestants who have done well and maybe give some encouragement for those that had a bad week.  In the end, the "biggest loser" will be determined by percentage of body weight lost.  The top three contestants will win some great prizes. 

Readers can also win prizes.  There are two ways to do so-
1) be the "biggest non-contestant-loser."  At the end of the competition we will ask for submissions.  You can do this by sending in 3 before pictures and 3 after pictures (a front shot, side shot, and shot of the numbers on your scale for each).
2) Simply by leaving comments!  Every comment on every post throughout the entire season will enter you for the chance to win two great prizes.  Every prize is worth at least $40!
Win, Lose or Blog will be posting all sorts of inspiration and tips throughout the contest.  Healthy recipes, fitness and nutrition information, and more.  Two of their team members are actually very knowledgeable fitness enthusiasts.  You'll have to stop by their "Meet the Team" page to see which. 
Thank you to Fawnda from Fireflies and Jelllybeans, Maria from Huff and Buff, Lindsey from Fitness for the Rest of Us, Sumo from Sumo's Sweet Stuff, and Holly from 504 Main for coming up with such a creative weight loss competition/blog!