It's that time again! Yes, I am talking about Smart and Trendy Mom's Social Parade! If you haven't heard of Follower Friday Blog Hop – it is a great blog hop designed to help you find new blogs to follow and help bring your blog new followers.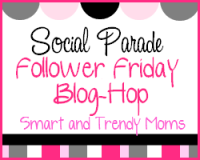 It's easy to join. Simply click on the Social Parade image which will take you straight to the blog hop. Create a post similar to this, then add your link to the linky at Smart and Trendy Moms. Follow as many blogs as you would like. See, super easy!
Welcome to all of my new followers!
If you are hosting a giveaway(s), be sure to add them to my giveaway linky for increased exposure. Please feel free to browse my current giveaways located on the right sidebar or top navigation bar. And most importantly, please leave me a comment with your blogs address, so I know who and where to follow you back at!
Before you go…I would like you to answer just one question. The forecast in Dallas calls for 100° over the next week. I love summer, but 100° already? I don't know if I will make it. So my question is, what part of the country do you live in, and what is the weather like in your neck of the woods?
Thanks for stopping by! I hope to see you again, soon!