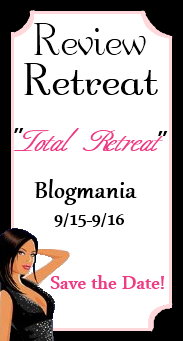 Blogmania is coming up sooner than you may realize! This is my first year participating in Blogmania, and I an super excited! Are you as excited as I am???
Participating blogs were asked to pick a theme…. I chose "Total Retreat" to go along with the atmosphere of my blog. Total Retreat is just that. A complete retreat- anything and everything to help you relax, feel beautiful, and take your mind off of the hectic and busy work week. Mother's Day is not the only day we should feel pampered. And don't worry fella's , we will have something for you too!
Blogmania will take place September 15, 2010 and September 16, 2010. Each blog will have a number to help you keep track of the giveaways you have entered. Hundreds of blogs will be participating during this two day extravaganza and you have hundreds of chances at winning!  We have done all of the work for you. No, seriously! Each blog will have links to other blogs participating in Blogmania. All you need to do is follow the links and enter to win, and you will have plenty of chances to win!!!
As of right now, I will have giveaways open to both US and Canada. I am working on something for my international friends. I have purchased a few items to giveaway and I also have the greatest sponsors…ever!!! I don't want ruin the surprise, so you will have to come back on Sept. 15- Sept. 16 to find out exactly what's up for grabs. I can tell you Review Retreat will be giving away more than $900.00 in prizes!!
To help show your support, copy and paste the code (above) to your blog as a reminder to revisit during Blogmania. Trust me, you won't want to miss out on the amazing giveaways we will be having! Want to know what prizes are being given away? You didn't think I would give in that easily…You will have to visit the sponsors below to try and guess. :)
Remember- The special Blogmania prizes are only available for two days, September 15th and 16th. The number of prizes you could win is only limited by the number of blogs you visit.
I am looking for businesses who are interested in sponsoring a giveaway for Blogmania. My theme is very flexible as I have chosen "The Total Retreat". I am looking for a wide range of products and would love to feature YOU!
Would you like to sponsor a product?