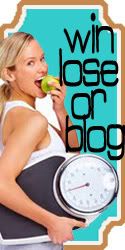 A few days ago, I mentioned the Win, Lose or Blog Contest. I applied, not ever really thinking I would be chosen as one of the 6 contestants.
Well….
I was selected! I am so excited to be part of this weight loss competition. The contest will run for 8 weeks and at the end of the competition, the contestant who loses the highest percentage of body weight will win, while the top 3 contestant will also win amazing prizes.
Readers can also win prizes.  There are two ways to do so-
1) be the "biggest non-contestant-loser."  At the end of the competition we will ask for submissions.  You can do this by sending in 3 before pictures and 3 after pictures (a front shot, side shot, and shot of the numbers on your scale for each).
2) Simply by leaving comments!  Every comment on every post throughout the entire season will enter you for the chance to win two great prizes.  Every prize is worth at least $40!
I would love for you to visit and follow my weight loss blog. I appreciate everyone's support and encouragement. I hope to see you there!