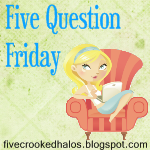 1. What is your worst memory of your siblings?
My brother and I are 9 months apart - mamma didn't waste any time. We fought like crazy. We couldn't stand each other. But I guess the worst part was witnessing him getting beat up by a bunch of boys after he got off the school bus. I tried to stop it, but I wasn't able to help. It's funny now... my poor brother was kicking and swinging his arms like a monkey. I told him if he is going to fight like that, the next time he better run!
2. What was YOUR naughtiest childhood memory? (Must be something YOU did, no pawning it off on someone else!)
Naughty? haha I could give you plenty of naughty memories from my teenage years. But childhood? So, I don't know if this is considered "naughty" but... I have two brother. One is 9 months younger, the other is 4 years younger....
When I was about 10 years old, I was looking for a way to make quick money. I came up with the idea to have my very own bedroom garage sale. I would set up toys and other items I didn't want anymore. I put tiny price tags on everything. Then, I announced to my brothers that they would have the opportunity to buy my great toys! I charged them $1.00 to enter my room and they chose toys to buy from me. For just 10 years old, I thought I did very well. Making money for nothing? haha So, I held a garage sale every weekend. When I started running low on "inventory" , I would sneak into my brother's rooms and take my stuff back, only to re-sale it.
I still can't believe I did that. Even worst, I wish they were still naive, so I could hold bedroom garage sales now. No doubt, I would make triple the amount I made back then!
3. Where do you like to go to relax?
Relax? What's that?
4. What was the last thing you won?
A beautiful Mirra package from
Thrifty and Frugal Living
. It was amazing. I won shampoo and conditioner, body wash, lotion and re-molding cream. How is this remolding cream supposed to work? I'm still waiting for my face to "re-mold" to the way it looked pre-pregnancy!
5. If you could be on a game show, which would you choose?
I would say
The Price is Right
, but only if Bob Barker was hosting. I love Drew Carey, but tries way to hard to be funny. So, if Bob wouldn't host for me, I would choose
Wheel of Fortune
.