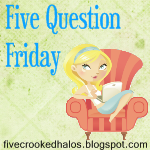 1.
How much time do you spend on the computer a day?


A Day? Maybe 15 Minutes. Late night? Hours and Hours!
2. Will you pay for your

children's

college or raise them to pay for their own way?

My parents never offered to pay for college. I believe paying for college should be the parent's responsibility. If they can't afford to pay everything, I think at least half should be covered by the parent. Paying for my son's education is top priority. I have no idea how I am going to to it, but I have 18 years to save and figure it out.

3. Have you ever been in a car accident?


Haha- Yes, but never my fault. Okay it was always my fault. When I was a teenager I rear-ended a lot of people. Eight cars/trucks/SUVs/ School-buses. Don't worry, I haven't been in an accident in over 8 years. *Knock on Wood*
4. What is your favorite book?
Such a Pretty Fat by Jen Lancaster. Have you read it? If not, you must. This is a laugh out loud 'til your stomach hurts book. I love it!
5. Do you make your bed everyday?


Yes, but never in the morning. I normally make my bed after my son has gone down for his nap.